One device.
A lifetime
of fitness.
Limited time offer! Enter coupon D9KH7G to receive a free spring cover with your order!
| | | |
| --- | --- | --- |
| | Choose your color! | |
| | | |
| --- | --- | --- |
| Add stabilizing bar? | | |
| | |
| --- | --- |
| | Low Impact |
| | |
| --- | --- |
| | Full Body Fat Loss |
| | |
| --- | --- |
| | Detoxifies the Blood |
| | |
| --- | --- |
| | Lymph Node Circulation |
| | |
| --- | --- |
| | Relieves Joint Pain |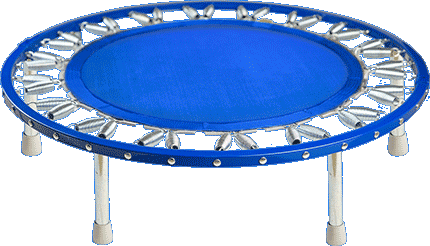 5 Star Reviews on Google Business

Sean Moran

"Needak provides quality rebounders with quality customer service! They are quick to respond and there to help with any questions you have."

Karen S

"When I work out on my Needak, I'm a 63 year old kid! Stress melts, fatigue vanishes and I am instantly energized!"

Sonny Collie

"This is a well made, durable product well worth its cost in the health benefits that just keep on coming. I am one happy customer."

Jody Pratt

"I have had my Needak rebounder for 20 years now and have enjoyed jumping on it for exercise. It has kept me flexible, feeling energetic and strong"

Sheila David

"...it has been worth every penny!!! I didn't expect it would be so much better than the other ones I've used. ...and my knees are thanking me for it!"

James Hanks

"I'm very pleased with the quality of my Rebounder and with the prompt service I get whenever I need something. "
Professional Equipment
The same robust rebounder used in gyms worldwide
The Needak Rebounder you purchase from us is the same rebounder thousands of gyms use across the globe. 100% Made in USA of high gauge steel, permatron, and piano wire, with replaceable parts and a lifetime warranty, your Needak will last you for the rest of your life (and then some).
Unique Health Benefits
From whole body fitness to alleviating arthritis, rebounding has too many health benefits to list
By rebounding on a Needak rebounder for only 10 minutes a day, users can expect to feel a full body flush with every bounce as their lymph nodes are naturally pumped, their blood circulation increases, and every muscle in their body contracts and expands.
A Fitness Device for the Whole Family
Used by people of all ages, including children, athletes, and the elderly
The unique nature of rebounding on a Needak allows users to scale their speed and intensity as they see fit, focusing on stretching, fitness, fun, or other therapeutic results by altering the way they use it.
Lifetime Warranty + Replaceable Parts
Most customers that try cheaper models end up with a Needak
Many of our customers have had their Needak rebounder for over 20 years. Bundled with a limited lifetime warranty, we stand by every single device we ship out. Only once you step on one does it become clear how different bouncing on a Needak is to competing brands, and why we are the bestselling rebounder on the planet.
Ready to hop on a Needak?
*Note that all health information provided is anecdotal and has not been approved by any governing authority and is not to be used in place of the advice of a trained medical professional.